The roads I take...
KaiRo's weBlog
July 14th, 2011
I've recently enlisted into the
Mozilla Reps ("ReMo") program
, mainly to procure sponsoring by Mozilla for the 1st European
OpenStreetMap
conference, known as
"State of the Map - Europe" (SotM-EU)
.
I'll be the sole representative this weekend of Mozilla being one of the major sponsors of this event, and I'm also helping somewhat with organizational matters, as my colleagues from the
"OpenStreetMap Austria" association
are the organizers of the conference.
It will be an interesting role to represent Mozilla, and I'm very proud of that, as this gives me a chance to talk a lot about the one thing in Mozilla I'm most passionate about:
our mission
.
Supporting a conference on an open, innovative project that creates opportunities for everyone on the web and beyond goes to the heart of what Mozilla is, and I couldn't be happier about being present there.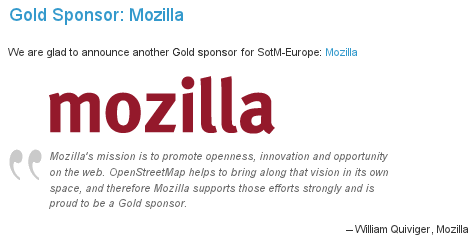 Things start off with a public
pre-event discussion
tomorrow evening and the conference itself is taking place from Friday to Sunday, so don't expect to see me online a lot in the next few days, I'm exploring this strange place called "real life" with other geeks - and probably mapping it out some more.

By KaiRo, at 02:50 | Tags: Mozilla, OSM, ReMo, Vienna | no comments | TrackBack: 0
RSS
/
Atom