The roads I take...
KaiRo's weBlog
September 30th, 2010
Just before
flying off to California
and in the middle of packing, I could make yet another addition to the
SeaMonkey 2.1 feature list
:
SeaMonkey now supports OpenSearch through toolkit's search service!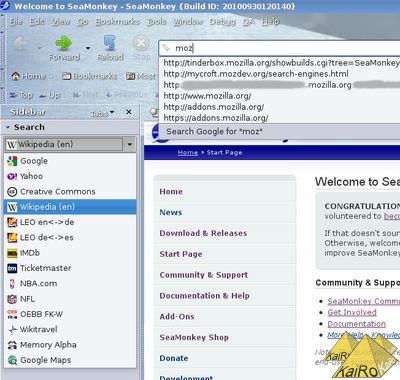 We're late into this compared to Firefox, but this is one of the last, maybe even actually the last, item we needed to pick of from "the toolkit". The good thing is that now, all the search plugins that work for Firefox and possibly other browsers also do work for SeaMonkey. The bad news is that the special feature we had, the scraping of search results into the sidebar, is gone now and we don't have a clear idea if it would even be possible to get it back.
Also, we don't have a search bar available yet (it's planned to have it as an optional item through toolbar customization), the sidebar does some of its job for now, but even things like detecting site-specific engines or search suggestions are not available there yet.
The current state is a first step to get this feature in at all for SeaMonkey 2.1 Beta 1, now further steps can be taken to refine and improve it for the second beta and the final release.
By KaiRo, at 19:46 | Tags: Mozilla, OpenSearch, SeaMonkey, SeaMonkey 2.1, sidebar | 9 comments | TrackBack: 0
RSS
/
Atom