<< A Big "Danke!" to Our Community | The roads I take... | Integration eines Magento-2-Webshops mit FreeFinance und selbstgebautem Warenmanagement >>
A Look at 1.8M SeaMonkey Downloads
We have
just released SeaMonkey 1.1.4
, our most recent security release that fixes a few very nasty security vulnerabilities.
If you're still running any older version of SeaMonkey, or even a Mozilla or Netscape suite,
get this release now
to be sure to not run knowingly insecure code.
And if you're using one of our main 3 links to our official release builds, i.e. those that go to download.mozilla.org, your download gets counted by our download redirect tool called "bouncer".
As
already stated previously
, downloads of any other builds (.zip or tarballs, other platforms and other languages) are not counted, as well as downloads that are issued directly from FTP servers, or through other means of distribution (Linux distro packages, etc.) - so the real number of SeaMonkey downloads is in the dark to us, but the counts of the three main download links should cover a significant portion of our downloads.
And usually, when I poke the Mozilla build team to add new download links for a release to the bouncer tool, I also ask them for the current numbers.
As of today, when we added the 1.1.4 release, the counted downloads for SeaMonkey versions from 1.0 to 1.1.3 sum up to
over 1.8 million downloads
already!
The graph below shows a per-version split of those (blue bars and left scale):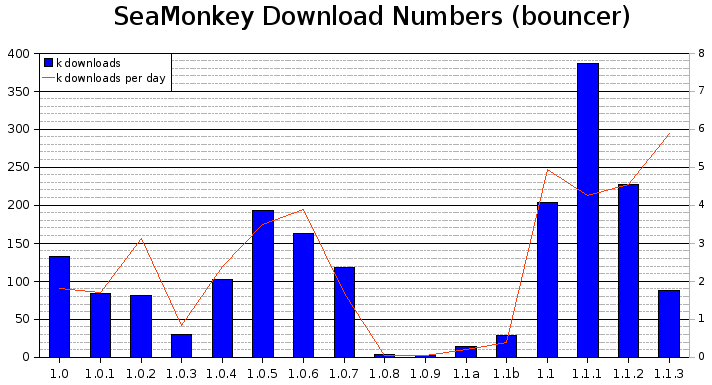 1.1.1 ranks highest with 386k downloads - but then, this version also had the longest lifetime (together with 1.0.8) of all releases, it held the title of being the most up-to-date SeaMonkey version for 91 days until 1.1.2 was released.
So I figured ranking the releases might more sense when taking the lifetime of those releases into account - the short 15-day-only timespan until 1.1.3 was followed up by 1.1.4 makes this even more important. What I did was diving the total downloads per release by the days in which that release was the most current one (on its branch) - in the graph above, this is the red line, using the scale on the right side.
The outcome is quite interesting: We started off around 1800 downloads per day for 1.0 and 1.0.1, with a spike to slightly over 3000 for 1.0.2 - but people obviously didn't want to adopt 1.0.3 last summer, it had only about 830 downloads a day. After that historic low, we saw a steady increase of download rates, nearing 5000 downloads/day lately, and 1.1.3 even had 5880 downloads on average in the 15 days it was out. Of course, the alpha/beta releases for 1.1 and those 1.0.x releases that only continued that branch while 1.1 was already out the door are way below the numbers for the most-current releases at any time.
And one last interesting number: In the 550 days since SeaMonkey 1.0 was released, bouncer recorded an average of 3376 SeaMonkey downloads every day!
I think we are on a good way and especially the high download rates for all 1.1.x releases are very encouraging.
Entry written by KaiRo and posted on August 4th, 2007 03:55 | Tags: Mozilla, release, SeaMonkey, stats | no comments | TrackBack
Comments
No comments found.