<< Weekly Status Report, W37/2007 | The roads I take... | Integration eines Magento-2-Webshops mit FreeFinance und selbstgebautem Warenmanagement >>
New Page Info Has Landed!
A nice feature improvement for SeaMonkey 2 has landed today: The
new page info window
ports functionality that has been coded for Firefox during last year's Google Summer of Code and makes it available in SeaMonkey's reworked page info dialog.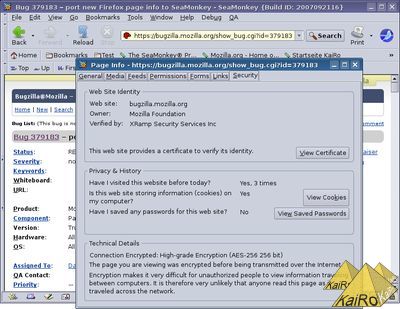 This nicely ties in functionality from other parts of the browser, like permissions, password viewing and cookies, but is also the first place where SeaMonkey recognizes feeds as something special and at least can list them. I still hope someone will pick up the work for
a feed reader in SeaMonkey
.
Note that this also tries to tie in with history to show if and how often you have visited the page, but that only works correctly with places support turned on, which is not the default for SeaMonkey trunk yet.
Thanks to Daniel Brooks for his work on porting over and improving this code (and to Florian Quèze as well for originally doing those improvements for Firefox).
Oh, and this is also the first completed task in the earlier mentioned
KaiRo.at Bug Bounty Program
- I hope more will follow this one.
Entry written by KaiRo and posted on September 21st, 2007 18:48 | Tags: bugbounty, Mozilla, SeaMonkey | no comments | TrackBack
Comments
No comments found.