<< Is There A Better Way To Promote What We Are? | The roads I take... | Weekly Status Report, W45/2008 >>
Over 1000 Days Of SeaMonkey Downloads
When I just updated my local spreadsheet with
current download data
collected by the "bouncer" tool at download.mozilla.org, I noticed we now have over 1000 days since SeaMonkey 1.0 was released (1016 days since January 30, 2006, actually), so it might be interesting to publish some stats.
First, note that only our main download links from the website are tracked by the tool, i.e. the Windows full installer, Mac disk image and Linux full installer for en-US builds in the case of SeaMonkey 1.x, and the Windows installer, Mac disk image and Linux tar.bz2 for all available languages for SeaMonkey 2.x builds (even though this still means en-US only for 2.0a1, later releases will include locale builds built by us in bouncer).
This means any install of any other build, esp. localized ones, is not tracked, as well as direct downloads from FTP servers or installations delivered by Linux distributors, etc.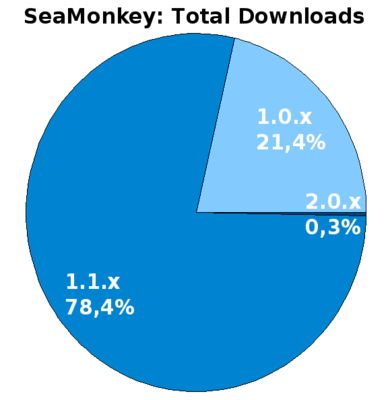 In total, most downloads stem from the 1.1.x series, which has taken over the "most recent stable" slot from 1.0.x after about a year and has been there since, while 2.0.x only has it's first alpha out currently, so no big surprises when comparing raw data of the release series.
While the download stats page linked from the first paragraph gives you raw download numbers and even a simple bar graph, the downloads per day are a number I personally am quite interested in. In my spreadsheet, I'm calculating the number of days a release was the most recent one (at least for its release series) and averaging its download over that timespan, which gives us interesting numbers about how well releases are doing.
Overall, in the 1016 days since SeaMonkey 1.0, we averaged about 4200 SeaMonkey downloads per day, 1.0.x had 1700 dl/day (2300 for 1.0-1.0.7, i.e. before 1.1 was released), 1.1.x averages at 5000 dl/day and alphas/betas at 320 downloads per day.
The uptake from 2300 to 5000 for 1.0.x vs. 1.1.x in the timespans where those release series were/are the most current stable releases is still quite impressive and shows that the first stable post-1.0 series was/is considered a better thing to adopt than the 1.0 series itself.
The fluctuations within the release series themselves show that every release starts off significantly higher in the first days and than averages out lower over time, the shorter a release is out there, the higher its download average tends to be.
SeaMonkey 2.0a1 currently is at about 300 dl/day, which is higher than 1.1a (which had 230), but it's only been out for 38 days (1.1a had 70). Still, that's 300 people every day who try out our first alpha of the next generation, and we get very encouraging and positive feedback from that testing.
Fun fact: Looks like we had the 11,111th download of this Alpha 1 today, at 11/11 of this year - a quite large number of ones at once, actually

While I'm at it, from daily pings to AMO for the add-ons blocklist (so we can deactivate add-ons for users if identify one containing malware or causing certain app versions to crash or such) we can now get rough statistics of daily users of 2.x versions - and we constantly have about 800-1000 users every day on the *pre versions (telling from the update channels, almost 1/3 on self-built ones, the rest on nightlies), which is quite good for on-the-edge development builds of a niche product!

On October 19, when I got the last statistics update on those blocklist builds out of MoCo (I don't have direct access), we had about as many daily users on 2.0a1 as on 2.0a2pre, about 750 for each, which is a good uptake for two weeks after the release of that first alpha as well.
Overall, I think we can be satisfied with how well we were doing in our first 1000 days of having stable releases out the door, but there's still enough room for doing even better!
Entry written by KaiRo and posted on November 11th, 2008 16:13 | Tags: Mozilla, SeaMonkey, stats | no comments
TrackBack/Pingback
SeaMonkey: 1000 Days of downloads... (TrackBack)
Comments
No comments found.