<< Weekly Status Report, W44/2009 | The roads I take... | Integration eines Magento-2-Webshops mit FreeFinance und selbstgebautem Warenmanagement >>
SeaMonkey 2.0 in the press
Here's a bit of an overview of press articles we got for the SeaMonkey 2.0 release. The English and German ones were collected by myself (we were pretty well-featured in German media), the French and Czech ones come from our respective localizers, Cédric and Pavel.
I've hidden two "easter eggs" in the English list that could help some of our users, by the way - a forum thread for ubuntu users (things are easier for some other Linux distros - openSUSE offers it in the build service and in upcoming openSUSE 11.2, and upcoming Fedora 12 also has SeaMonkey 2.0) and a link to the portable version that is available now.

English:
German:
French:
Czech:
Oh, and here's a scanned image from
the
German IT magazine - c't (Edition of October 26th, page 52):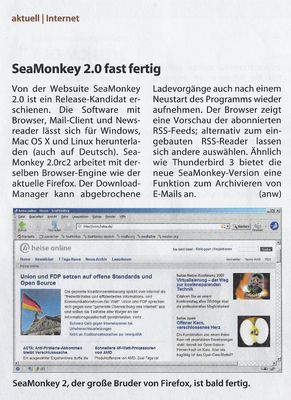 It's about RC2, but still cool to be present in that magazine...

Entry written by KaiRo and posted on November 4th, 2009 15:47 | Tags: Mozilla, press, release, SeaMonkey, SeaMonkey 2 | 5 comments | TrackBack
Comments