<< Tahoe Data Manager updated | The roads I take... | Integration eines Magento-2-Webshops mit FreeFinance und selbstgebautem Warenmanagement >>
Jökulsárlón Download Manager
"Jökulsárlón" is an Icelandic glacier lagoon that has pieces breaking off the glacier and swimming through it as icebergs on their way to the sea, just like files through the download manager.
My
newest add-on for Firefox 4 and SeaMonkey 2.1
is using this code name and makes the download manager UI run inside a browser tab and in a tabular style similar to what SeaMonkey is using. It also supports the use of progress windows instead of the download manager if preferred.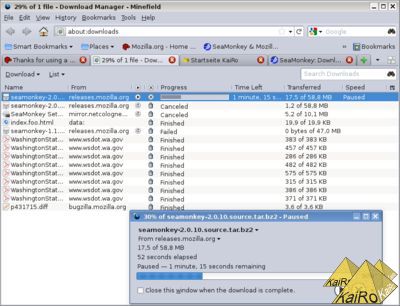 This is using the code I
wrote earlier
for SeaMonkey's download manager and even progress window UI, those interested in the actual code find it in the
add-on source repo
.
I'm not planning to backport this code to older versions than Firefox 4 or SeaMonkey 2.1, any time I put into this id better spent on improving what's there and I'd rather convert more of it to use things like Services.jsm, which only exists in Mozilla 2 code.
I will also not backport this work to SeaMonkey due to the discussions that had been going on around the progress windows. I'd happily support people porting code though - and I'd also accept patches to improve the add-on if anyone wants to help, of course.
And for everyone else, if you're interested in a download manager running inside a tab in a tabular interface, please test this add-on and give feedback!
Right now, it's not reviewed for public on AMO yet, it's in the sandbox, but that shouldn't stop you from testing it - feedback comments improve the chances of the add-on being made public!

Entry written by KaiRo and posted on November 20th, 2010 01:55 | Tags: download manager, Firefox, Jökulsárlón, Mozilla, SeaMonkey, SeaMonkey 2.1 | 6 comments | TrackBack
Comments
Author
Entry

werwolf

Thank you a very nice extension. The second one I will use.

2010-11-20 03:27

werwolf

The download manager disabled the applicatin-icons to the left at the statusbar.

2010-11-20 04:00

E Wong

from HK

With the latest trunk build > Build identifier: Mozilla/5.0 (Windows NT 6.0; rv:2.0b8pre) Gecko/20101108 Firefox/4.0b8pre SeaMonkey/2.1b2pre

Installing the add-on removes the Mail&News, AddressBook and ChatZilla from

both the application group (left of the status bar) and as well as the

Window menu.

2010-11-20 05:31

Mic

Hi, I like the download manager as well. Let's hope there'll be a way to hide the adress bar in Firefox soon.

Some ideas/issues (if there's a better way to report them, please let me know:

* Instead of disabling menu items on the context menu, you could hide them.

* What about removing items from the list using the "Del"-key?

* On Windows Alt+Enter opens the properties dialog of files on Desktop and in Explorer; could be a good shortcut here, too.

* A more Firefox 4-ish look would be great of course

2010-11-20 12:43

Webmaster

Sorry, the problem of the add-on on SeaMonkey is an overlay problem, I found it and will fix it in the next version.

Update:

The

add-on download page

now has the 0.2 version available that should fix this issue.

Last edited by KaiRo at 2010-11-21 17:00

2010-11-21 14:37

Kevin Hua

from Canada

Is it just me or does this addon not work with the firefox nightly dated 2013-05-03? about:downloads in the url bar still brings up the addon but when a download commences, it triggers the default firefox ui instead of the addon regardless of whether the toolkitui option in about:config is true or false.

2013-05-04 07:00