<< Sending Encrypted Messages from JavaScript to Python via Blockchain | The roads I take... | Integration eines Magento-2-Webshops mit FreeFinance und selbstgebautem Warenmanagement >>
Mozilla History Talk @ FOSDEM
The
FOSDEM
conference in Brussels has become a bit of a ritual for me. Ever since 2002, there has only been a single year of the conference that I missed, and any time I was there, I did take part in the Mozilla devroom - most years also with a talk, as you can see on my
slides
page.
This year, things were a bit different as for obvious reasons the conference couldn't bring together thousands of developers in Brussels but almost a month ago, in its usual spot, the conference took place in a virtual setting instead. The team did an incredibly good job of hosting this huge conference in a setting completely run on Free and Open Source Software, backed by Matrix (as explained in
a great talk by Matthew Hodgson
) and Jitsi (see talk by
Saúl Ibarra Corretgé
).
On short notice, I also added my bit to the conference - this time not talking about all the shiny new software, but diving into the past with "
Mozilla History: 20+ Years And Counting
". After that long a time that the project exists, I figured many people may not realize its origins and especially early history, so I tried to bring that to the audience, together with important milestones and projects on the way up to today.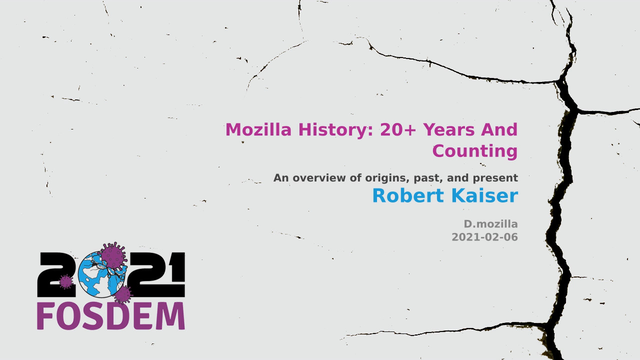 The
video of the talk
has been available for a short time now, and if you are interested yourself in Mozilla's history, then it's surely worth a watch. Of course,
my slides are online
as well.
If you want to watch more videos to dig deeper into Mozilla history, I heavily recommend the
Code Rush documentary
from when Netscape initially open-sourced Mozilla (also an awesome time capsule of late-90s Silicon Valley) and a
talk on early Mozilla history from Mitchell Baker
that she gave at an all-hands in 2012.
The Firefox part of the history is also where my song
"Rock Me Firefox" (demo recording on YouTube)
starts off, for anyone who wants some music to go along with all this!

While my day-to-day work is in
bleeding-edge Blockchain technology
(like right now figuring out Ethereum Layer 2 technologies, like
Optimism
), it's sometimes nice to dig into the past and
make sure history never forgets the name - Mozilla
.
And, as I said in the talk, I hope Mozilla and its mission have at least another successful 20 years to go into the future!
Entry written by KaiRo and posted on March 4th, 2021 23:41 | Tags: FOSDEM, history, Mozilla, Tech Speakers | no comments
TrackBack/Pingback
Comments
No comments found.