The roads I take...
KaiRo's weBlog
December 6th, 2013
Last month, I was contacted within a few days by a local "open mobile devices" enthusiast, a Mozilla events manager and a fellow German-speaking Mozilla Rep, all of them pointing to an event here in Vienna called
Firefox OS DevTreff Austria
.
While the local just asked me if I'd go there, the Mozilla contacts had been asked by the organizers for a speaker to open up the event. We were trying to get someone more used to talking about Firefox OS, but everyone's busy this time of year, so in the end we settled with me doing this keynote.
Now, I have been giving presentations on different occasions and events in the last years, but I never have actually keynoted anything, so that made me somewhat nervous. The other talks that were lined up for the evening were about app development, to some part about very concrete pieces of it, so I figured I should give that some frame and introduce people to Firefox OS, starting with why we are doing it, moving to what and where it is and giving a bit of glance onto where we want to take it. So I came up with "
Firefox OS: Reasons, Status & Plans
" as the title (my slides are behind the link).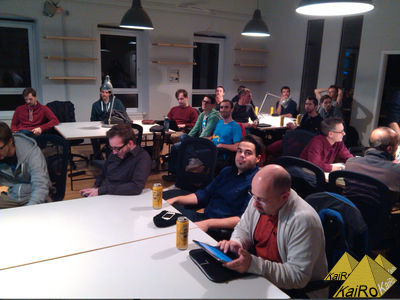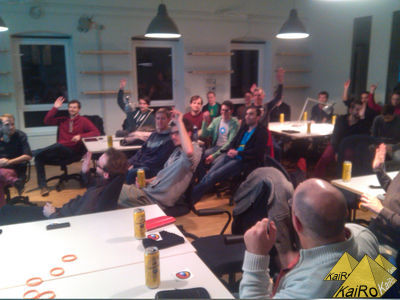 The audience was supposed to be about 50 people, I guess 30-35 really showed up (the pictures, taken "in style" with Firefox OS on my Peak, only show one part of the room), but those were an awesome bunch. They were really into the topic, asked interesting questions, and the talks following me were showing that we really had capable developers in the room, from those that do JS in their free time to those who earn their bread and butter by doing apps.
We also had two Mozillians, both of which I had not met in person before, even though I spent a lot of time in this city in the last decade!
As the event was going on, I was often the voice in the room who would have answers from the Mozilla side or could explain our point of view and initiatives - and in quite a few cases, I could loop back to something I said in my keynote. It was really great to see how apparently I had touched exactly on the right things there and gave everything else a good base to build on. Interestingly, there was quite a bit of interest in the DeviceStorage API, probably because accessing local files is something people can refer better to than storing items in-app. I was thankful someone did a talk on our Marketplace and in-app payment API/Services as that's one area I'm actually weak in, but it also sparked quite a bit of interest. The permission model did also get a few questions.
We surely had people with Firefox OS app experience in there, but I think more of those people might pick up web app development, esp. if more similar events come around, which would be cool. And maybe someone should tell them how to do simple apps without larger libraries or frameworks, and explain app manifests in more detail. I hope they will organize more of those and the chance for that will come along!
By KaiRo, at 05:16 | Tags: apps, B2G, Firefox OS, mobile, Mozilla, presentation, Vienna | no comments | TrackBack: 0