The roads I take...
KaiRo's weBlog
August 20th, 2017
30 years ago, a lot of people were wondering what the new
Star Trek: The Next Generation
series would bring when it would debut in September 1987. The principal cast had been announced, as well as having a
new Enterprise
and even the
pilot
's title was known, but - as always with a new production - a lot of questions were open, just like today in 2017 with
Star Trek Discovery
, which is set to debut in September almost to the day on the 30th anniversary of The Next Generation.
Given that the story was set to play 100 years after
the original
and what was considered "futuristic" had significantly changed between the late 1960s and 1980s, the design language had to be significantly updated, including the labels and screens on the new Enterprise. Scenic art supervisor and technical consultant
Michael Okuda
, who had done starship computer displays for
The Voyage Home
, was hired to do those for the new series, and was instructed by series creator and show runner
Gene Roddenberry
that this futuristic ship should have "simple and clean" screens and not much animation (the latter probably also due to budget and technology constraints - the "screens" were built out of colored plexiglass with lights behind them).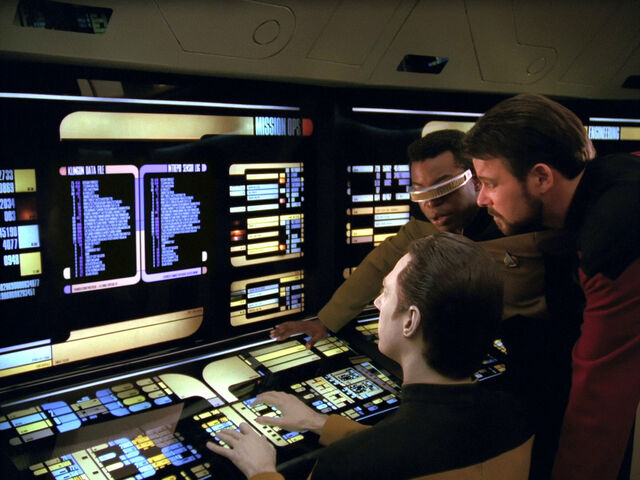 With that, Okuda created a look that became known as "
LCARS
" (for
Library Computer Access and Retrieval System
(which actually was the computer system's name). Instead of the huge gray panels with big brightly-colored physical buttons in the original series, The Next Generation had touch-screen panels with dark background and flat-style buttons in pastel color tones. The flat design including the fonts and flat-design frames are very similar to quite a few designs we see on touch-friendly mobile apps 30 years later. Touch screens (and even cell phones and tablets) were pretty much unheard of and "future talk" when Mike Okuda created those designs, but he came to pretty similar design conclusions as those who design UIs for modern touch-screen devices (which is pretty awesome when you think of it).
I was always fascinated with that style of UI design even on non-touch displays (and am even more so now that I'm using touch screens daily), and so 18 years ago, when I did my first experiments with Mozilla's new browser-mail all-in-one package and realized that the UI was displayed with the same rendering engine and the same or very similar technologies as websites, I immediately did some CSS changes to see if I could apply LCARS-like styling to this software - and awesomeness ensued when I found out that it worked!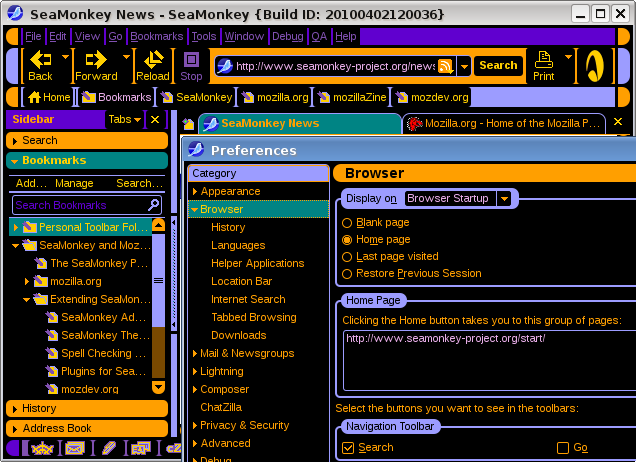 Over the years, I created a full
LCARStrek
theme from those experiments (first release, 0.1, was for Mozilla suite nightlies in late 2000), adapted it to Firefox (starting with LCRStrek 2.1 for Firefox 4),
refined it
and even made it work with
large Firefox redesigns
. But as you may have heard,
huge changes are coming to Firefox add-ons
, and full-blown themes in a manner of LCARStrek cannot be done in the new world as it stands right now, so I'm
forced to stop developing this theme
.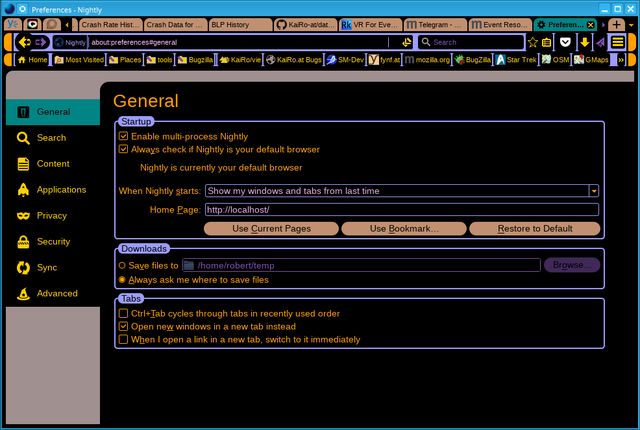 Given that LCARS has a huge anniversary this year, I want to end my work on this theme on a high instead of a too sad a note though, so right along the very awesome Star Trek Las Vegas convention, which just celebrated 30 years of The Next Generation, of course, I'm doing one last LCARStrek release this weekend, with special thanks to Mike Okuda, whose great designs made this theme possible in the first place (picture taken by myself at that convention just two weeks ago, where he was talking about the backlit LCARS panels that were dubbed "Okudagrams" by other crew members):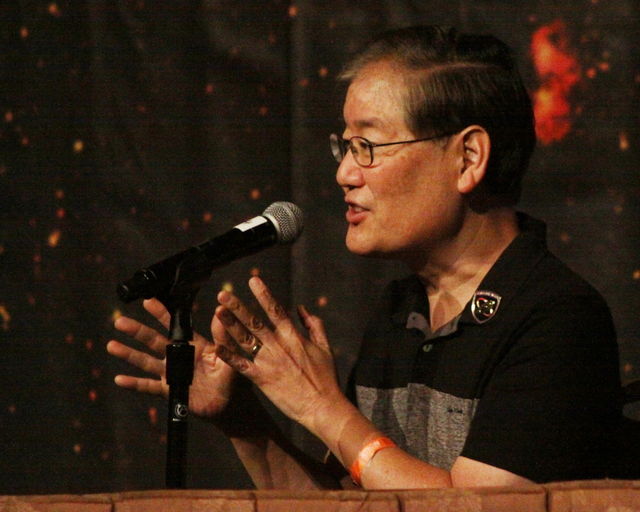 Live long and prosper!
By KaiRo, at 00:21 | Tags: Firefox, LCARStrek, Mozilla, SeaMonkey, Star Trek, themes | 5 comments | TrackBack: 0